Page 2 of 2 •
1, 2
@Deadrock and @Emerald-Shine
Thanks guys! As for the keychain, most of what I see the older Heisei (Kuuga to Kabuto). I'm sure Beast and Wizard will have keychain minifigures of these size. I really love Mega Bloks since a lot stuff other companies make as 'small prizes' orgiveways fit the MB's scale
"Deuce" Springsting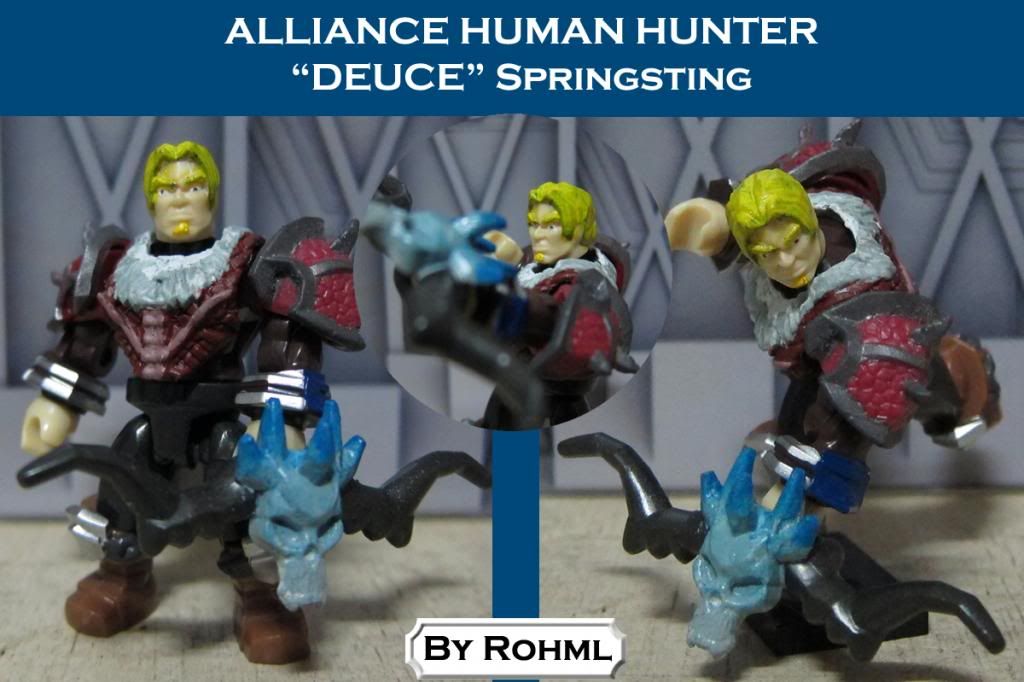 Not particularly great... made this custom to test out gradients and painting hair. Repainted the armor and added a faded fur effect on the collar, also painted the bow to give it an "icy" look, not too sure if it was translated properly. Added a goatee to the character to make him appear "douchey". He is a camping hunter
Ah yes the douchey goatee. I love how a full set of face moss is acceptable yet a tiny select patch makes the owner perceived as an absolute cock. Same for ponytails although that one is understandable. Nice work on the gradients, not an easy effect to manage but you pulled it of fabulously.
Thanks Emerald-Shine!
Making custom blok-guys is really fun, I had a two-week hiatus on actual production but planning is still on going. Here is one I just finished and am very proud of.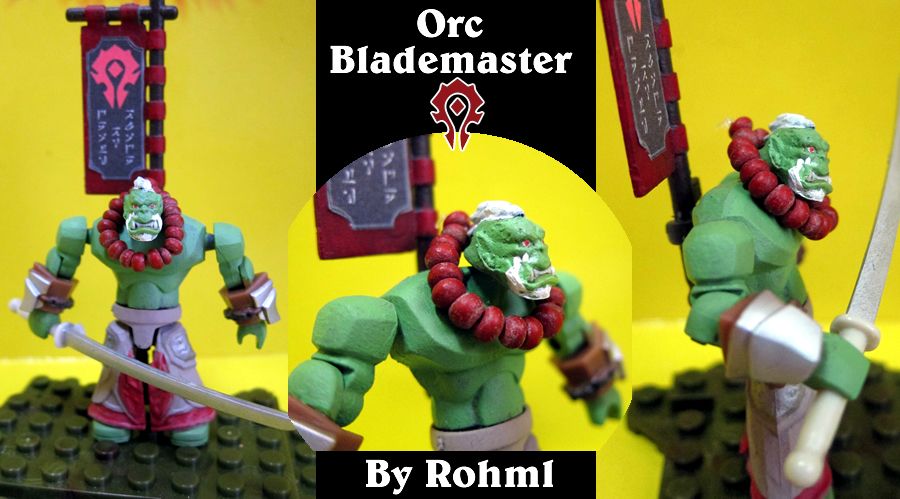 Made from Mega Bloks Warlock Orc Dragath Body, arms from Orc Warrior Ragerock. The sword and sashimono (big flag) is from a Stikfas Samurai. Be1ads came from a cheap bead necklace that the fiancee had... big thanks to her since she made that tiny necklace herself just for this project. I didn't have enough skill to pain the Horde logo on his back so I printed it in sticker paper and attached it like a decal to the sashimono.
Painted the pants tan with red on the sidings. Painted the sashimono red and poles brown. The sword was only painted on the blade since I wanted to keep the off-white color of the hilt. Painted the Blademaster's body green and the hair white (added a beard and mustache to copy Warcraft III's Blademaster closer.)
Unfortunately because of the nature of the "skirt-legs" of Dragath, this Blademaster cannot do some dynamic poses that the character is known for.
Want to create a Night-Elf with a beard... Shave it's skin off. The hair
First time sculpting significant parts of a custom (Down jacket and Bandana). Legs are from Dragon Universe, head is WoW Colton and body is from a Marvel MB MAF. I took some liberties with the colors though.
Sweet job man! I love the simple effective sculpt on the torso. Also, is that Iceman's head?
blogness wrote:Sweet job man!  I love the simple effective sculpt on the torso.  Also, is that Iceman's head?
No, that's this guy's head:
http://www.toyreviewdaily.com/wp-content/uploads/2012/07/20120715-224803-e1342626733385.jpg
I sculpted the bandana on top of his head... Tamiya Smooth Type can be easily smoothed
Wow, it's been eight months already?
I think I owe the community a custom. Well here it is.
Since it's almost Halloween, here's a Halloween inspired custom: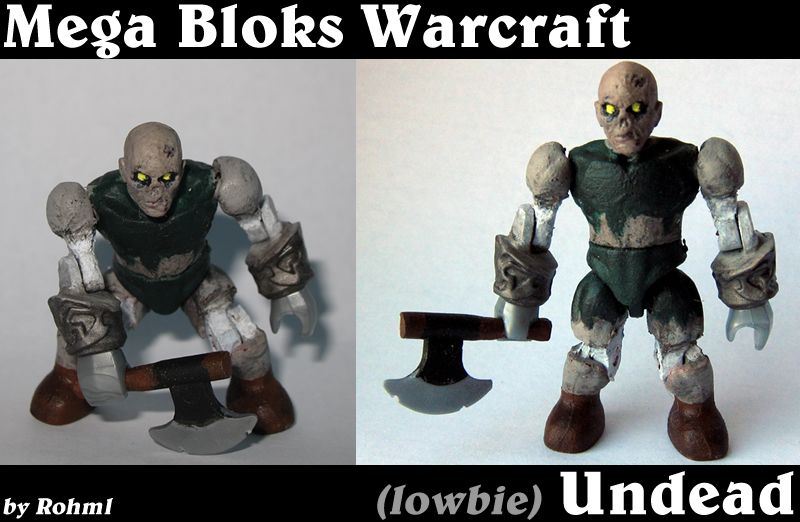 Mega Bloks Warcraft Undead (lowbie-style).
Lowbie in a sense that they don't have much gear on, since I figure when Undeads (Forsaken) in Warcraft are fully decked out in gear that they the most striking features they have tend to be hidden, I had to make my custom an almost naked, just risen, undead.
The most memorable feature Undeads have in the game are their joints are mostly exposed in the knees and elbows, so I started on working on that by using a rotary tool to make the knees and elbows thinner. I wanted to give the guy a mohawk but for now I'd rather have him bald since having that mohawk ruins the scary part and I'm planning to use this custom for a local Halloween-inspired custom contest.
I upped the ante this time by adding shading effects and making the figure as gritty as I can, I think I have may overdone it since it looks really dirty. Let me know, did I over-do it?
I specifically decided to not add too much blood effects since I'm looking for a recently risen undead -- but sentient -- character, not a flesh-eating mindless zombie from The Walking Dead. In lieu of being a lowbie I just gave him a simple one-handed axe, was planning to add blood effects on it, but I don't think he did a lot of killing yet, but I did try to make it look plain and dirty. Nuln Oil is such a good shade when used properly (otherwise, it's a dirt magnet).
Its been way too long Rohml! Im loving the undead fig. I totally get not gearing him up since the coolest features of the undead models just vanish. Initaily I thought an undead character would need a new torso with a hunched over sculpt but you pulled it off in that first pic!! Dont worry about it feeling too gritty, Its rotting fiend of death, I think it looks perfect.
Page 2 of 2 •
1, 2
Similar topics
---
Permissions in this forum:
You
cannot
reply to topics in this forum